Sine's Biography
Janis M. James lives and works in the Central Interior part of British Columbia, in Western Canada. I'm truly a Celt with a Scottish and Irish background and I have three beautiful grown daughters, a wonderful granddaughter and three cats. I have been divorced for some years and thoroughly enjoy meeting new people and greeting new challenges. I love designing, needlework, research, gardening, camping and trying to stay out of mischief.

HL. Sine Gunnsdottir currently lives in the far reaches of the Highlands in Scotland, but has been known to travel to Byzantium with her Norse uncles and to spend time in Eire with her mother's family. Sine is very Celtic/Norse who sometimes borrows clothing from her Eastern travels when the need for more glitter overcomes. (Sine is pronounced "Sheena" for those of you who wish to know - it is the Gaelic for Jane and Janis is a derivative of Jane. All nice and tidy.)

My Personal Device
In the SCA
– I live in the Principality of Tir Righ in the Kingdom of An Tir. I have my Award of Arms, Goutte de Sang for Service, and Jambe de Lion for Arts and Sciences. I am very proudly an apprentice to Mistress Shirin al Hasana, Order of the Laurel.
| | | |
| --- | --- | --- |
| SCA | Kingdom of An Tir | Principality of Tir Righ |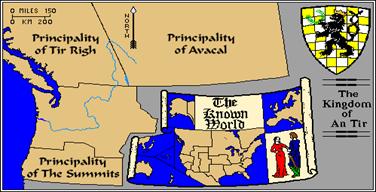 This Kingdom of An Tir map will give you a basic idea of where I work and play.